Welcome to the SAMMYS
Sam Freedom's Version of The SEMMYs
Cruising through Sphinn, I found a controversial marketing sphinn for an Andy Beard post, titled, "The Semmys - Highly Controversial Just As It Should Be" and, naturally, seeing the word "controversial", my brow involuntarily raised. Surely, a REAL controversy blogger, like myself, would be included in there somewhere. Right?
After all, I AM number 10 in Google for "controversial marketing" - and without even trying. Right?
However, I don't actually write about controversial marketing directly - I leave that to the academics. As the saying goes,
"Those Who Can't DO, Teach."
Plainly and simply, at the risk of sounding like a marriage contract - I DO. The internet is rife with examples of my controversial marketing - some easily found, others not. The fact that I don't publicize log stats and various earnings testifies more to my intent to both not reveal "trade secrets" and also to not get people artificially hyped up about their personal potential.
The "controversial" marketing that most people think of as controversial marketing is very tame and all nicey-nice, indeed. - like on the level of running into the middle of a big meeting, calling everyone a "pee-pee head" and then running back to their blog to field complaints.
But It Just Ain't So...
It's A Little Bit More Involved Than That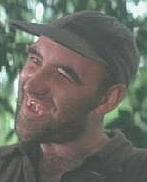 "boy sure got a purty site, ain't he?"
But it really makes me want to pat such wanna-be miscreants on their skulls and say, "How cute! Ok, now run along!" Because, as Chris Brogan likes to repeat more times than Rain Man, controversial marketing (like social media) is ALSO...
"...about the conversation"
"...about the conversation"
"...about the conversation"
"...about the conversation"
So I'm Opening Up a Conversation With You
This Was A Conversation, Right?
That being said, not a-one of my illustrious posts were anywhere to be found on the Semmys site. Now, I've Sphunn, Stumbled, Dropped and Tweeted my way into the New Year just like everyone else but what I found, instead, was nothing short of...
A SEM-ified Scene Out of the Movie "Deliverance"
In other words, the SEM crowd kept it, for the most part, "in the family" - they all "did it" with each other.
So what's a REAL controversial marketer to do except...
...Be Controversial!
That's right, rather than just peeking into the big incestuous gala and continuing on my way, I've decided to inject MY deserving articles into the SEMMYs my OWN way... by creating...
...The SAMMYs!
Essentially, the SAMMYs are almost the exact same as "the SEMMYs" except each category includes one of MY articles that should have belonged in there in the first place. As I'd told Matt McGee, if a certain percentage of fresh, new faces from OUTSIDE the community were included, it might have the effect of enriching the community as opposed to, once again, publicizing all the same old names we see day-in and day-out in the Sphinn Zone...
So Now, Without Further Ado... I present to you...
SEO

Get Your Vaseline Out, Google Is At It Again! (re: Paid Links)
PPC

Oh, It's Gonna Be A Click Fraud Christmas...!
Google

Wikipedia - Google's Anna Nicole Smith
Blogs & Blogging
10 Reasons Why You Might Be a Pussy Blogger
Comment Whoring Outside the Box
Link Building

PayPerJokes Crime and Google Does Evil - My First Review
Social Media

A Quick Jaunt Into Data Mining on Twitter
Rants

Warning! Big Twitter Is Watching YOU!
LOL Funny!

5 Undeniable Reasons Why Chitika Linx Probably
Won't Be Working Out on My Internet Marketing Blog
Online Marketing / General

The Battle for Your Brain...!
Reputation Management

Persona Non Grata Sam Freedom
Viral Marketing

So, Bigmouth, You Think You Know Viral Marketing?
Good luck to Everyone and Congrats to the Judges:
Aaron Wall Andrew Shotland Andy Beal Andy Beard Barry Schwartz Bill Slawski Brad GeddesChris Winfield Christine Churchill David Mihm Deb Mastaler Eric Enge Jeff Quipp Jennifer Laycock John Andrews Lee Odden Lisa Barone Logoworks Loren Baker Matt McGee Michael Gray Rand Fishkin Simon Heseltine Stoney deGeyter Sugarrae Tamar Weinberg Todd MalicoatVanessa Fox
Technorati Tags: sem seo sphinn matt mcgee social media google ppc search tech local search reputation management viral marketing blogging online marketing internet marketing link building semmys Aaron Wall Andrew Shotland Andy Beal Andy Beard Barry Schwartz Bill Slawski Brad Geddes Chris Winfield Christine Churchill David Mihm Deb Mastaler Eric Enge Jeff Quipp Jennifer Laycock John Andrews Lee Odden Lisa Barone Logoworks Loren Baker Matt McGee Michael Gray Rand Fishkin Simon Heseltine Stoney deGeyter Sugarrae Tamar Weinberg Todd Malicoat Vanessa Fox