While many people are busy just trying to make their first measly $100/month online, there are all these crazy mind-control shenanigans going on all over the place but from a much higher scale. That's right, you've got dreams of making beaucoup bucks online, whooping it up with your friends, vindicating yourself from all the naysayers who insist you are wasting your time, and you're gonna make it big time.... if only these cults, and secret government agencies would stop fighting each other for control of your mind and let you make money online in peace!

It heats up pretty good around the 2:10 mark
I forget how many times people said "great things will come to pass", and didn't. I forget how many times the world was supposed to end, and it didn't. I forget how many times someone said they were gonna kick someone's ass, and they didn't. And I forget how many times someone promised to do something helpful, and they didn't.
So Many Disappointments; So Little Time.
Well, apparently, Scientology was scheduled to come to an end on February 10th, 2008; but, if you're prone to splitting hairs or were, say, a cult leader trying to re-define a prophecy that never came to pass, you might say that Scientology was supposed to "BEGIN" to come to an end on February 10th, 2008. And, from there, you could cite a whole bunch of unverifiable occurrences that, to feeble minds, could suggest the beginning of ANYTHING, really.
Hey, Maybe Barack Obama Will Correct All That?
Can I Get a "Yes We Can!"?
YES WE CAN!
Yes, maybe Barack Obama will slay Scientology. Maybe Barack will dismantle "Anonymous" and maybe, just maybe, Barack Obama will expose all the secret government agencies who are behind "Loose Change's 9/11 Conspiracy" and we can all get back to making our first $100 per month, right? Or maybe not.
WAIT! How About "THE SECRET"?!?!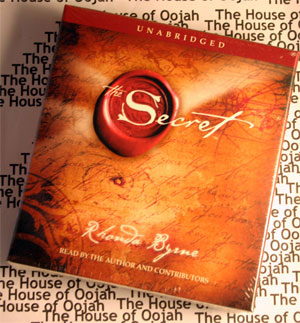 Surely "The Secret" will attract to us untold wealth... right? If we only just belieeeeeeeeve!!!
Maybe Internet Marketing's Hypnotic Marketing Guru, "Doctor" Joe Vitale, who has bragged about manipulating people with "hypnotic ad copy" techniques and is featured in "The Secret" movie, can help you?
Darn, This Woman Is Pretty Sure He Really Can't
This Guy Is Awfully Sure He Can't Either....
"The reason for featuring Vitale, Gray, Demartini and other successful self-help gurus in The Secret is, obviously, to convince watchers that these people became successful because they learned how to use the law of attraction in their favor. Never mind the years of trial and error, hard work and dumb luck, that got them to where they are now. Steve Salerno, author of the book SHAM: How The Self-Help Movement Made America Helpless, wrote in his review of The Secret on Amazon: "One seldom encounters a better/worse example of the logical fallacy known as a posteriori reasoning. To take a successful person, look backwards at the attitudes they held on the way to becoming successful, then use those as proof-positive of WHY they're successful, is as fundamentally silly as using the fact that Bill Gates and Ted Turner were college dropouts as justification for why you or your kids should drop out of college, too. ('See? You'll become a millionaire, just like they did!')."" ~The Wrath of the Secretrons!
Let Mark Day Set You Straight...
And If None of That Cheers You Up,
Take Solace In the Fact That Aliens
Are Finally Fed Up With Scientology...!
Alright, people, it's safe now. You're all safe. You can get back to making your first $100 month now... no Aliens, no Secrets, and no Anonymous are going to stop you. We have Barack Obama's reassurances that, "Yes We Can!" and the REAL "Law of Attraction" from the early 1900s to guide us.
So What Are You Waiting For?
Get Earning!
Technorati Tags: the secret scientology church of scientology cos tom cruise anonymous barack obama loose change mark day joe vitale jack canfield l. ron hubbard dianetics cosmic connie new age cults